How to conduct an effective competitive analysis in 7 steps
Understanding competitors requires more than just monitoring their online presence.
Competing within an existing market is not always easy. According to organisational theorist Kenichi Ohmae, companies can only excel if they hone in on three areas of strategic focus: the customer, the company, and the competitor. In this article, we'll focus on the last of the three.
Obviously, succeeding in the realm of competitors requires business intelligence. But how do you gather, analyse and put it to action—the right way?
Read on to learn about the most crucial steps of effective competitive analysis.
Step 1: Identify who to benchmark against
Before conducting a competitive analysis, you must first pick what organisations you're going to focus on. After all, it would be far too time-consuming and costly to compare all your marketing activities against every possible competitor at once.
Choose the most relevant ones (and the most relevant aspects of their operations).
If you're working for a new startup, the obvious picks for competitive benchmarking are the industry 'winners'.
It's worth remembering that this doesn't necessarily always mean the biggest; being the 'best-in-class' often means different things in different industries. In B2B tech, this might mean having the most efficient and effective software solution, for instance.
If you're already an established and mature firm, you can benchmark yourself against lower-ranked competitors instead. This may include new entrants, smaller companies and/or niche firms, as they may have particular strengths that larger companies lack.
You may also choose to benchmark yourself against those outside your immediate 'space'. Even though indirect and replacement competitors provide a different product or service from yours, analysing them could lead to unexpected opportunities for growth and innovation.
Tip: Create a comprehensive list of direct, indirect and replacement competitors first (tools like Crunchbase can help you do this). You can shortlist them later, but keeping that initial list will be useful for future competitive analyses.
Step 2: Collect relevant data
Data on your organisation's operations should be easily retrievable. Accessing relevant information about your chosen competitors can be trickier—but it's not impossible.
There are three main ways to get competitor information:
publish sources: This includes company reports, trade reports, press releases and industry surveys commissioned by industry associations or the government. Websites, newspapers, web forums and publicity material can also be good sources (but they may not always be reliable).
Data sharing: Conferences and other similar events give you a chance to network and swap information with competing firms, formally or informally.
Direct interviews: You may interview customers who currently use (or no longer use) a competitor's product or service.
We think you should go one step further when it comes to direct interviews. People who have defected from you to a close competitor can be extremely helpful sources, so it's important that you also reach out to them with relevant questions. Asking them about the levels of service they receive, for instance, can help you pinpoint the processes used behind the scenes to deliver that service. Their answers will help you shape an effective persona profile—and give you additional insights about your target audience as well as your competitors.
Tip: Use business intelligence tools such as Owler and Google Alerts. They help you track news about your competitors in real time, so less energy is spent on performing manual searches.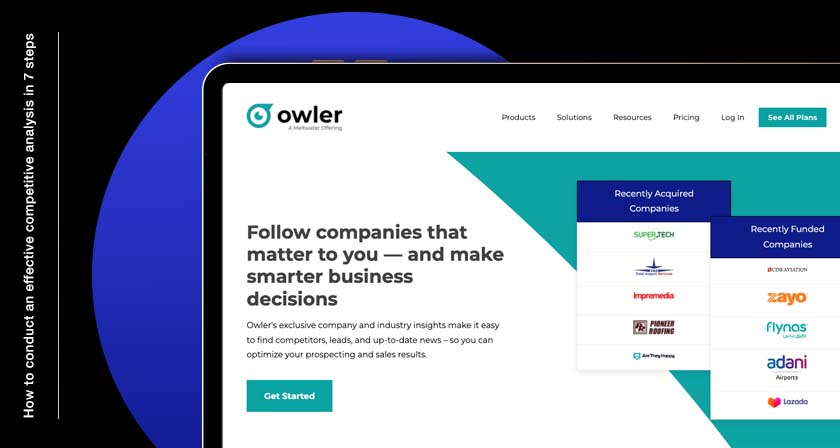 Step 3: Assess competitors' current and future strategic objectives
It's important to understand your competitors' objectives and goals because they give you clues on what strategic direction they plan on taking—and in turn, the direction you should take (and how aggressive you need to be, if you want to pursue it).
Based on the information gathered in the previous step, ask yourself what your competitors are trying to achieve and why. Are they satisfied with their achievements?
Most companies try to expand via market penetration—by finding new ways to make their current offering more appealing to their current segments. For example, they might be lowering their prices to incentivise more sales. However, if they're expanding into new countries and locations (or selling their offering to a completely new segment), then it's a clear sign that their growth strategy is market development.
Occasionally, you'll find companies introducing new products to an existing target segment, which could mean they're trying to retain as many customers as possible. This is product development. You may even notice a competitor trying to diversify completely, which could be a signal that the market you're both currently in isn't profitable enough.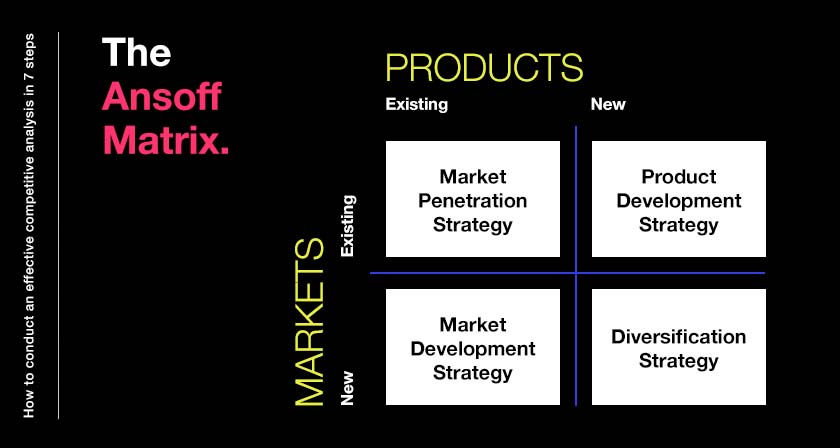 Tip: To determine what your competitors' strategic priorities are, categorise pieces of evidence and insert them into an Ansoff Matrix. This strategic tool will help you infer and draw conclusions about their objectives quickly and effectively.
Step 4: Assess your competitors' messaging, capabilities, solutions and propositions
Your competitors' messaging, solutions and propositions can tell you a lot about where they stand within the market and, just as importantly, how the position themselves. This will help you decide how your organisation wants to differentiate themselves from them later on.
One way to assess all three is to use all the data you gathered and distil it into short descriptive phrases that cover the following:
Who they help: What persona are they focusing their attention on the most? If they have multiple personas, keep in mind their messaging may differ for each segment.
What their product does: How does their offering fulfil customer needs?
What they want customers to do: What's their call to action (their initial 'hook'?)
What differentiates their offering: How are they unique?
You should also analyse competitors' resources, assets and capabilities, as this allows you to anticipate what they might do in the future and how they might respond to environmental or competitive changes.
Focus on four aspects:
Their ability to conceive and design: What technical resources do they have (patents, copyrights, technical staff, etc.)? This will determine if a competitor is likely to bring new products to market.
Their ability to market: How skilled are the people involved in sales, marketing, distribution and so on? How well do they understand the market?
Their ability to finance: Have they received any funding? If not, how easy is it for them to access finance?
Their ability to manage: What decisions have senior managers made in the past? Their actions send very clear messages about their organisation's strategic intentions and capabilities.
Tip: Create SWOT analysis tables in order to visualise your competitors' strengths, weaknesses, opportunities and threats in an easily interpretable and shareable way.
Tip 2: Create competitor messaging frameworks based on what is available and compare against your own.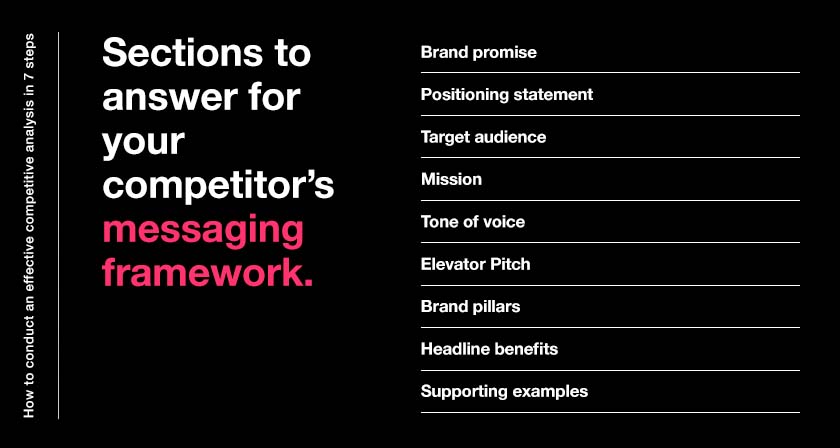 Step 5: Evaluate current marketing activities
You've now looked at what competitors can afford to do next, but what are they actually doing at the moment?
This is when you should begin assessing their marketing mix (product, price, place and promotion). Most organisations will understandably focus on promotion because information on competitors' digital marketing activities is relatively easy to access.
When carrying out a digital marketing audit, it's important to assess all possible channels. This means you should look at their websites, blogs, emails, and social media. Plus, their SEO, SEM and PPC performance. Ask yourself:
What topics, themes and messages do they focus on?
What personas are they targeting, and how?
How well do they perform overall?
What types of content and topics perform best?
Still, it's worth noting that all four marketing mix elements are key; examining them will give you a holistic picture of where your competitors' strengths and weaknesses lie.
For example, if you discover that all of your competitors offer similar products at the same price point, you may have a good opportunity to adjust your pricing strategy in a way that increases your revenue.
Tip: There are online tools you can use to monitor your competitors' digital marketing activities, such as Brandwatch and Buzzsumo. Just make sure they operate seamlessly with other tools in your martech stack; this will ensure fast decision-making (after all, you want technology to speed things up, not slow things down!).
Step 6: Compare and contrast with your own organisation
Information about your competitors is only useful if it is compared and contrasted with what you know about your own organisation. Because competitive advantage is a relative concept, you should aim for a clear understanding of all the things your competitors do better than you and vice versa.
Consider the following questions:
What are the key factors to their success in your particular market? If you're comparing yourself against the 'best-in-class', what makes them that way?
What do they do differently?
If you and your competitors provide similar offerings, what exactly are the points of parity and difference? What about your own value prepositions?
Once the comparisons have been made and the areas for direct attention identified, you may realise that your organisation's operations are already close to best practice. In this case, you should reinforce them and strive to improve when possible.
However, you may also conclude that your operations are inadequate compared to your competitors. This leaves you with two options: you can set up new processes that mimic those of your competitors, or you can introduce best practice processes from other industries to jump ahead of the competition (this is known as process innovation).
There is, of course, one caveat with the latter. Does the idea 'fit' your underlying strategy? Do you have enough resources to achieve this? All suggestions, even if it's backed by data, should still make practical and strategic sense.
Tip: When identifying areas for improvement, record specific targets when proposing new processes that your organisation can adopt. Use project management tools like monday.com and Asana to help you with this.
Step 7: Report your findings to key stakeholders and decision-makers
If no one takes action on the insights gained from this process, competitive analysis simply becomes an unproductive and costly exercise!
Successful dissemination of competitor intelligence requires two things. First, you must clearly identify the destination (who needs to know this?). Second, the data presented must be accessible and shareable, with the appropriate level of detail.
To other members of senior management, only present insights that have high strategic value. Summarise specific issues (but show where more detail can be obtained). Be sure to share the most important trends, patterns and developments like news about recent acquisitions or changes in ownership, as it can inform your organisation's own competitive strategy.
Middle and junior managers that work on a more operational level will require more detail to formulate tactical decisions. Include specific digital marketing statistics and figures. If your organisation is keen to improve your SEO rankings, for instance, SEO managers and executives need to know your competitors' domain authority scores.
Tip: Create a report template that's best suited to your organisation's needs. This standardises the way insights are presented within your company, which will prevent confusion. It also saves you time in the long run.
When designing your template, include sections that should always be used for future competitive analyses like fields for competitor details, Ansoff matrices, SWOT tables, and more.
Conclusion
Just as understanding customers is key to marketing success, so is a good understanding of competitors—plus their strengths and weaknesses. However, keep in mind that a strong competitive analysis shouldn't be restricted to digital marketing only; it requires a close examination of your competitors' broader marketing strategy and how they plan to achieve their goals.
Read the latest positioning trends and insights.
Tap into our brand and product positioning, storytelling, and creative expertise to inspire your next strategic move.