The Consumerisation of B2B Marketing…….Only the Brave Will Survive.
B2B marketing is becoming more like B2C. Discover some of the value-adds B2B marketers can gain from shifting to a more consumer focused outlook.

B2B marketing – why so serious?
B2B marketing sometimes takes itself too seriously ‒ and it's not hard to see why. Millions of pounds of investment, involving hundreds of people, where total success or utter failure may depend on the messaging of your next campaign.
This doesn't have to mean every marketing communication needs to have a sober, top-heavy tone just to sound 'authoritative'. Most B2B marketers worth their salt have turned to content marketing, with 93% of B2B marketers in North America using content marketing in 2014, but with the proliferation of content the challenge is in content differentiation in a very crowded market.
In this market, where 70% of B2B organisations produced more content last year than they did in the previous year organisations need to focus on how they can turn their content into an unforgettable experiences.
What's the most exciting opportunity for your business?
According to the 2015 Econsultancy B2B Digital Trends report, publish in association with Adobe 23% of B2B marketers consider 'content marketing' the most exciting opportunity for their organisation in 2015.
Furthermore 21% of B2B and B2C marketers consider 'improving the customer experience' the most exciting opportunity for their organisation in 2015.
Q: Which one area is the single most exciting opportunity for your organization in 2015?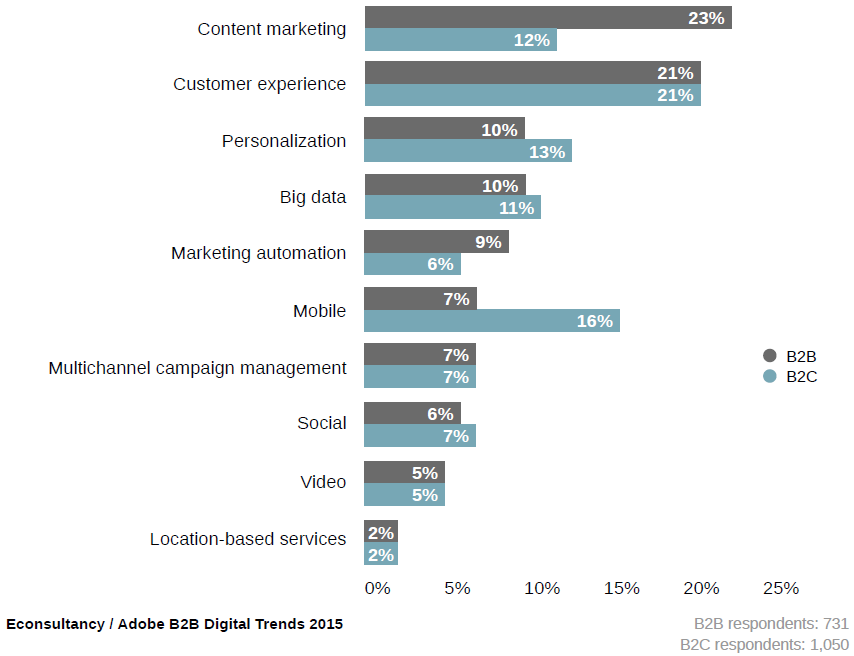 What lessons can B2B learn from B2C?
Despite the popularity of content marketing among the B2B marketing community only 42% of respondents to The Content Marketing Institute / Marketing Profs report 'B2B
Benchmarks, Budgets, and Trends 2014 – North America' said they were 'effective' at it, and only 9% said they were 'very effective'.
So what lessons can B2B marketers learn from their B2C counterparts?
Document your content marketing strategy
In a world of countless channels and always-on market conversations, 'authority' comes from being there when you're needed – and conversing in a warm, human way.

B2B marketing

is still person to person, not business to business. Companies in the consumer space know this

already

.

Yet only 44% of B2B marketers have a documented content marketing strategy

. Yet an

integrated, and documented, omni-channel marketing campaign can drive engagement

across your customers by delivering relevant and timely content in a manner that suits them.

Treat the buyer of business services as a consumer
Today's

B2B marketing

services need to draw on best practice in the consumer marketing world ‒ treating the buyer of business services as a consumer too.

After all, your customer

doesn't become a different person when they hit the office

. They are still a human being, with worries, fears, and desires. Their need for comfort and risk mitigation is just as valid in a £500,000 software contract negotiation as in the lunch aisle of their supermarket, shopping basket in hand, if not even more so.

Differentiate through experience


Through the creation of engaging content, relevant to carefully researched and constantly evolving buyer personas, distributed across channels that suit them at a time that suits them B2B brands can differentiate themselves from the competition through providing an engaging and informative experience.

Build the foundations – Data is no longer a nice to have.

Implement a single customer view, which is a 360 degree representation of your customers & prospects, which will be backbone of your marketing programmes enabling greater levels of personalisation, intelligence & results. Alarmingly, the vast majority (92%) of those who deem their contact data to be essential to marketing success admit to inaccuracies and on average, they identify 23% of their data is at fault.
Q: Over the next five years, what is the primary way your organization will seek to differentiate itself from competitors?

How to drive differentiation…only the brave will survive
…H.E.A.R here
B2B marketing campaigns need to be built around H.E.A.R – Humanity, Experience, Authority and Result in order to successfully drive differentiation and engagement. Previously whereas B2B campaigns were product focused in this new B2BB2C environment campaigns must now now shift to the human experience, focusing on buyer personas and adding emotional elements to content in order to influence purchase decisions. In combination with this human experience B2B marketers must also focus on positioning their clients as voices of authority in order to achieve the result of content engagement.
A great example…
General Electric are a great example of a brand who create a mix of engaging, authoritative (and sometimes irreverent) content, as this Vine demonstrates...and the result for GE? High levels of engagement on their content and a solid brand image, 365,000 + Twitter followers is not bad after all for a brand whose B2B offerings are largely built around aviation and energy.
Breaking from the traditional B2B marketing mould might be scary at first, but in this new consumer driven climate…only the brave survive.
Another B2B example from Eloqua on the modern marketing mission, where the marketing persona was taken on a mission of discovery, through an innovative lighthearted take on the challenges of the modern marketing taken from the traditional world of marketing to the modern world. This offering a different experience through a content marketing campaign which delivered up up lift of 300% in leads for the same quarter the year before.
Get help…
The biggest issue in today's B2B marketing sphere is the skills necessary to create engaging content and drive the level of engagement needed in an omni-channel environment. In fact in a recent survey most marketers are lacking these essential skills…

However when 53% of marketers believe the production of relevant content makes them more consumer centric and companies that blog are 13 times more likely to show a positive ROI from marketing it is time for B2B marketers it is time for B2B marketers to learn from their B2C counterparts.
Takeaways:
To differentiate B2B marketers must create customer centric content experiences, no longer will just producing content be acceptable.
B2B marketers must treat business buyers as B2C marketers treat consumers with the level of personalisation required to drive intent in a global marketplace.
Learn more from the B2C world and get ahead of the 84% of B2B marketers who are making brand awareness their top goal. Download your free eGuide 'The consumerisation of B2B marketing' now.
Read the latest positioning trends and insights.
Tap into our brand and product positioning, storytelling, and creative expertise to inspire your next strategic move.